FOR PEANUT LOVERS:
TREETS – THE NEW PRODUCT RANGE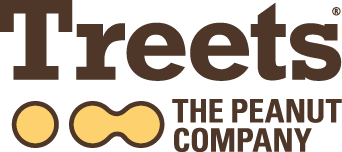 The Treets range covers everything what makes a peanut fan's heart beat faster. Peanut butter, in a crunchy milk chocolate as a big and mini cup, or for meantime snacking with Treets Buttons. Whoever prefers whole peanuts will find his new favourites with milk chocolate finish in Treets Peanuts.
And since we really live sustainability, we're using 100 % fairtrade cocoa and resign artificial colouring.
The fairtrade cocoa program allows farmers to sell more cocoa under fairtrade-conditions. Mass balanced cocoa. For more information visit www.info.fairtrade.net/program